Goodbye 2018, Hello 2019!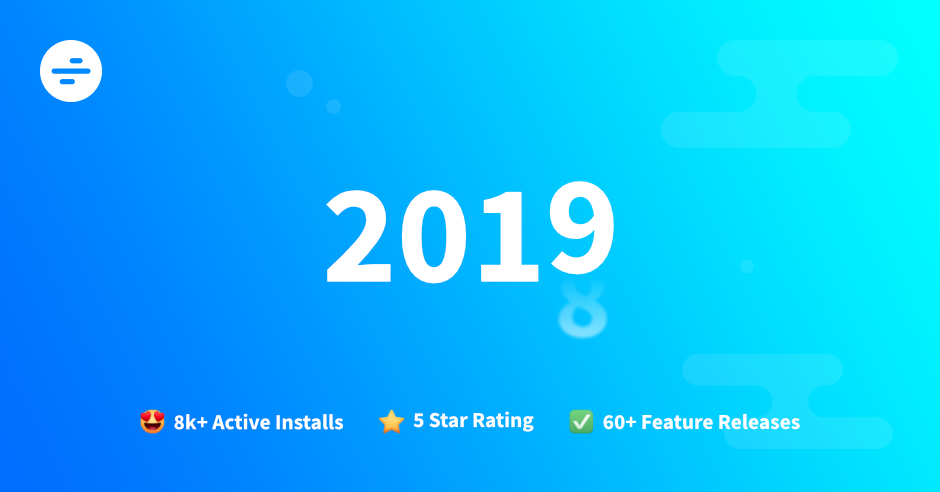 With 2018, a great year has ended and we're thrilled to see what's to come for 2019! ?

In fact, 2018 was our most successful year in business since we've decided to move away from client work and focus solely on creating Premium WordPress Products. Page Builder Framework quickly became one of the most popular Page Builder Themes currently with over 8,000+ Active Installs and 38 5-Star Reviews. Wow!
But 2018 wasn't always easy.
Remember when Page Builder Framework was not available from the WordPress repository? Unbelievable, right? Yeah, that's how we've started! It took us almost 6 months to get the theme approved and listed due to the tremendously long review queue. (And yeah, it got rejected first… Yikes!)
Then, it happened on March 21, 2018 ?

We believe in Open Source software, so delivering a powerful & free version of our product through the channels of wordpress.org was one of our main goals for early 2018. Since then, we've introduced:
40 new features to Page Builder Framework
and 25 new features to the Premium Add-On
Some of these upates include Custom Sections,  Gutenberg Compatibility, WooCommerce Integration, and GDPR Compliance. The list goes on!
Page Builder Framework 2.0
We're happy to announce that Page Builder Framework 2.0 is on the way! In fact, lots of the groundwork flowed into the recent releases of Page Builder Framework already, including:
a major rewrite of the entire codebase (saved us 300+ database calls!)
proper code commenting for developers
preparing for Blog Layouts
If you're running the current version of Page Builder Framework, you're already taking advantage of the performance improvements we were able to make during the code-rewrite. That said, the main focus of Page Builder Framework 2.0 is Blog Layouts.
This will, similar to the WooCommerce integration, be rolled out in 2 phases – first for the theme, later for the Premium Add-On.
Documentation
We've not only restructured our Documentation, we've also started to add loads of new articles to guide you through Page Builder Framework & the Premium Add-On. This is a work in progress so if you feel something is missing, please let us know in the comments 🙂
Changing our Payment Model
There's nothing worse than outdated software breaking your WordPress website. Soon we will be switching our payment processor and with that will come a recurring model for our Premium Add-On. This will help to create a hassle-free experience for our customers.
But don't worry, you will have full control over your subscription under your account area + get notified early if your subscription is about to renew. Previous purchases remain unaffected by that change.
We are hiring!
Page Builder Framework is growing fast and we're looking for a code-wrangler + content creator to join the team.
The jobs are fully remote and you can work from wherever you are. Pajamas are just fine! 😛
Become part of a thriving company and let's take Page Builder Framework to the next level. We'd love to hear from you! 🙂
Stay in the Loop!
Sign up for our Newsletter & be the first to get notified about new updates & features!
Tired of the WordPress Dashboard?
About the Author