Custom Sections – A Powerful way to add Custom Content to Your Website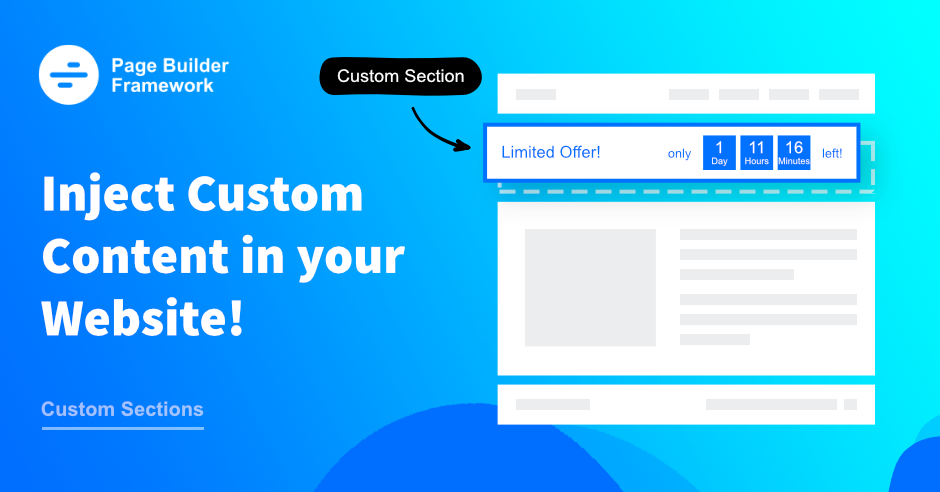 With Custom Sections, you can display custom content on your website based on flexible display conditions with absolutely no coding required.
Custom Sections
Custom Sections is a powerful feature that allows you to inject a piece of content almost anywhere on your website based on complex display conditions.
Are you running a discount? Display a custom banner throughout your Entire Site before the header.
Want people to sign up for your Newsletter? Add a newsletter sign-up form to the bottom of All Posts.
Want a different Header for the member area on your website? Create the header with your page builder of choice and make it apply to only specific Pages on your website.
The possibilities are endless.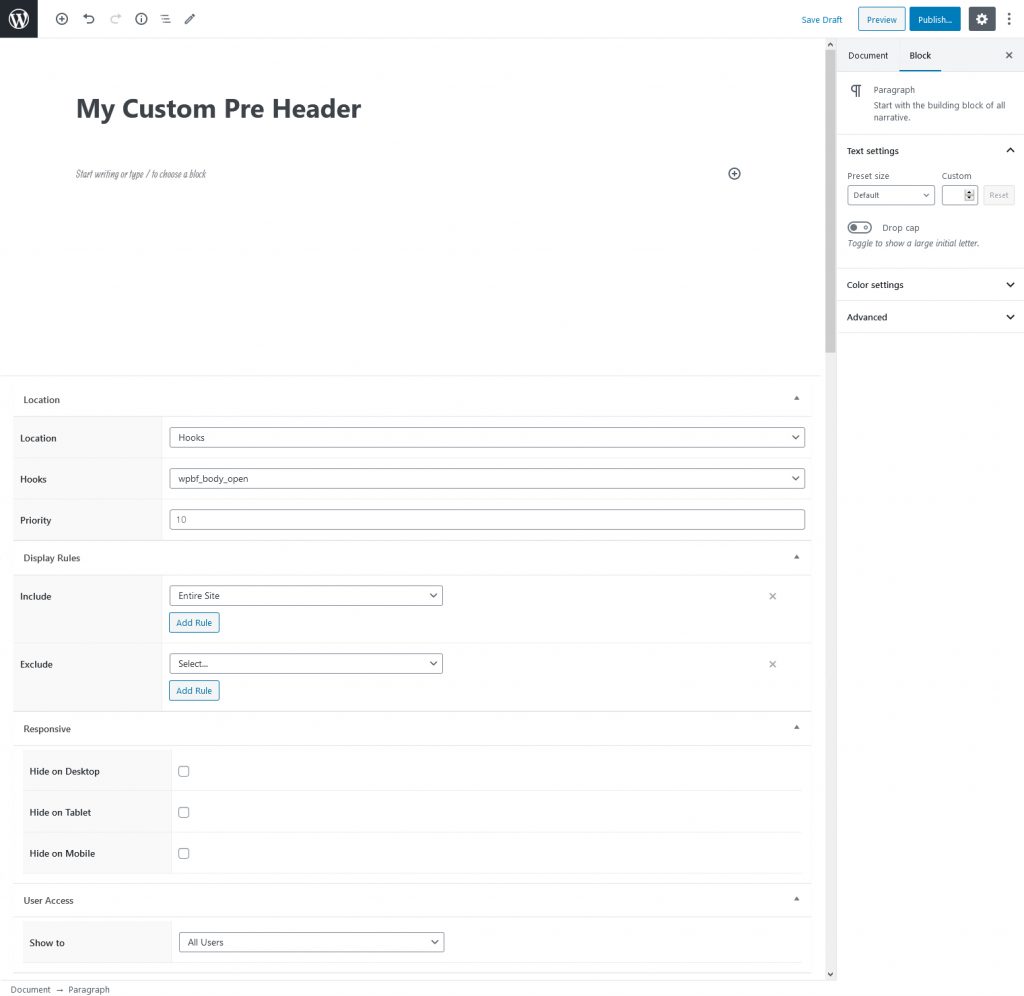 Custom Sections work seamlessly with popular page builders & the new WordPress Gutenberg editor. Here is a list of all Page Builders & Editors that are supported with Custom Sections:
Gutenberg Editor
Classic Editor
Elementor
Beaver Builder
Divi
Brizy
Every Custom Section has its own settings area at the bottom of the page. There are 4 main elements in Custom Sections:
Locations
Display Rules
Responsive Settings
User Acccess Settings
Let's have a look at each of them individually.
Locations

You can use your Custom Section to either replace the theme-specific elements like the Header, Footer or 404 Page or use it to inject your custom content in one of the available Hooks in Page Builder Framework as seen on the screenshot above.
We have 4 Locations that you can use to display the Custom Section you have created:
Header
Footer
404 Page
Hooks
Display Rules

This is where it gets super powerful! Using the display conditions, you can target specifically where your content should be displayed.
Responsive

The responsive settings are pretty self-explanatory. You can choose whether you want to show/hide your custom sections on:
Desktop
Tablet
or Mobile Devices
Did you know? The Premium Add-On also allows you to set Custom Breakpoints.
User Access

Under User Access you can define who your Custom Section should be shown to. Select between:
All Users
Logged-In Users
Visitors (Logged-Out Users)
Bonus: Display Theme Hooks
To get a visual representation of the available locations (Hooks) in Page Builder Framework, logged in users with admin capabilities can Display Theme Hooks from the WordPress admin bar or Custom Sections screen.
This is handy to see where the Custom Section can be injected on the front-end of your website.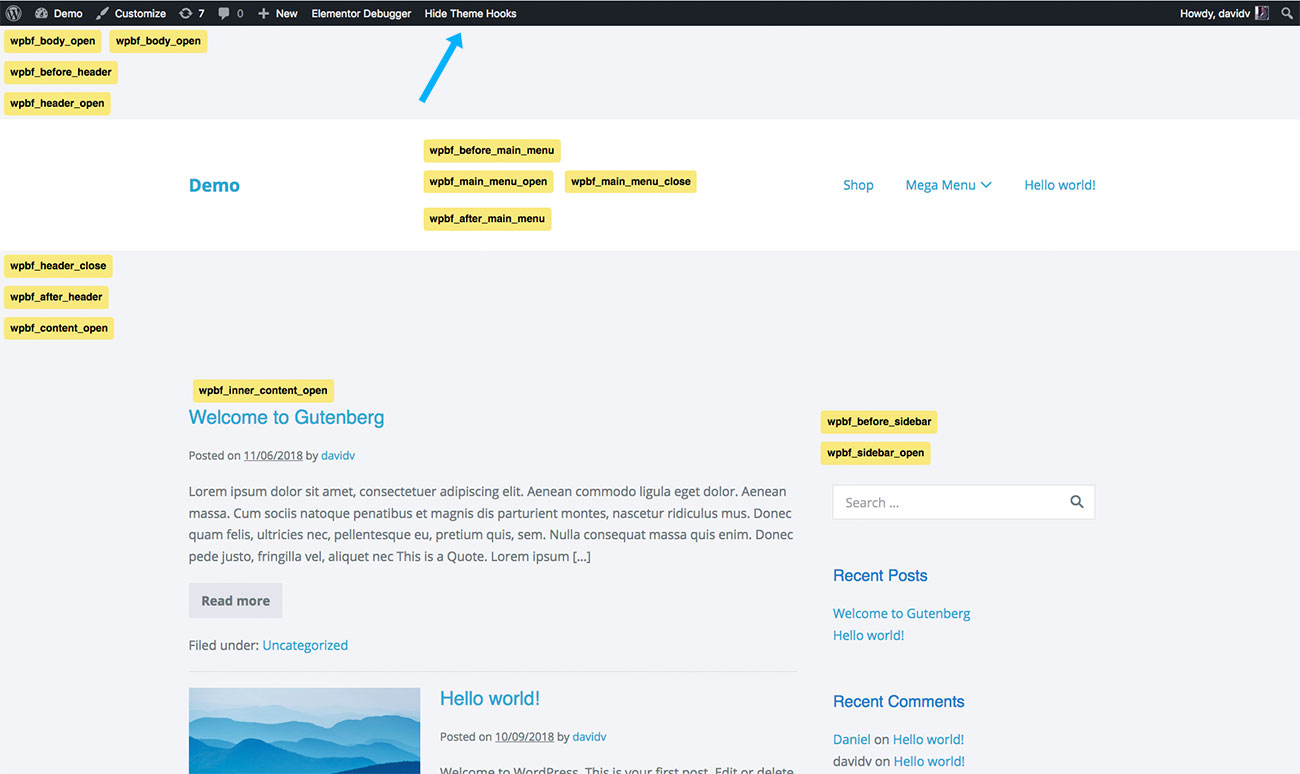 Wrapping Up
Custom Sections is a powerful feature that allows you to build more dynamic websites by injecting custom content in pretty much all areas of your website.
To give you an example how we're using Custom Sections on the Page Builder Framework website, check out the Ultimate Dashboard banner below this post or the "Join 10,000+ Subscribers" section on our Blog page.
Custom Sections is part of our Premium Add-On for Page Builder Framework which is currently available at only $58/year (or $248/lifetime).
Stay in the Loop!
Sign up for our Newsletter & be the first to get notified about new updates & features!
Tired of the WordPress Dashboard?
About the Author