Better Mobile Menu's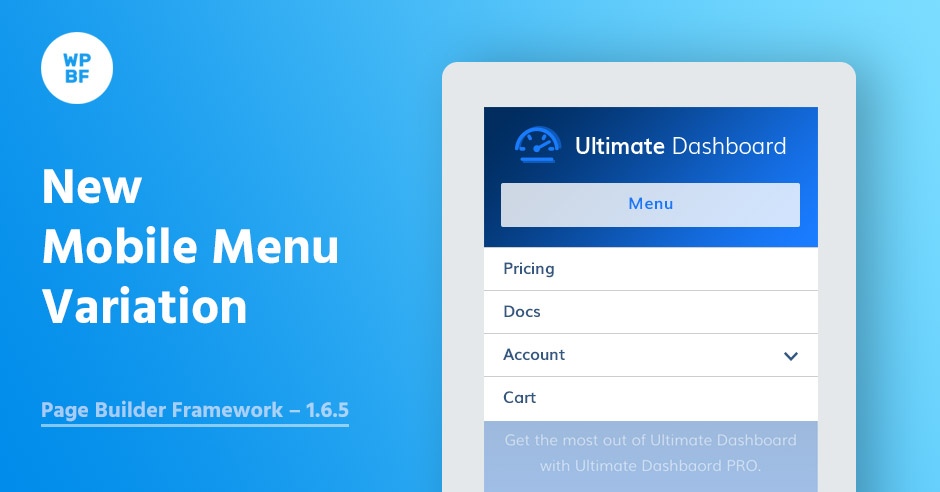 In this post, we're going to look at what's new in the latest version of Page Builder Framework and take a quick look back at 2017.
2017 was an exciting year for me. With the launch of Page Builder Framework and re-launch of Ultimate Dashboard PRO, I've managed to transition away from client work to become a full-time WordPress developer. It is great because I can now focus on extending and adding features to Page Builder Framework and other products.
Page Builder Framework – 1.6.5
This is a relatively small theme update that focuses on mobile menus. There is still some great news to share so I've decided to include this in a blog post. So lets dig in.
In version 1.6.5 of the theme, the sub-menus for mobile devices has been refactored. It is now possible to open and close sub-menus by clicking on the arrow next to the menu item name. This was one of the most requested features from our users.
There also is a new mobile menu variation available which is a great alternative if you're not a fan of the typical hamburger icon menu.
Furthermore, there are now options to set a sub-menu width and change the padding for the sub menu items for the desktop menu in the WordPress customizer. As always, check out the changelog for all enhancements, tweaks and bug fixes.
AnyWhere Elementor support
AnyWhere Elementor pro is now fully compatible with Page Builder Framework. I had a great conversation with Anand, the developer of AnyWhere Elementor during the process. In fact, he made me refactor the sidebars in Page Builder Framework to make the theme more accessible. If you don't know what AnyWhere Elementor is, go check it out here.
Pricing changes
This won't affect any existing customers, even the 1-year license. While the 1-year license will still be available at $58 with a renewal discount of 30%, I've decided to adjust the price for the lifetime license from $178 to $198.
When?
This will happen very soon! With that being said, this is your chance to grab your lifetime license at a reduced price!
Stay in the Loop!
Sign up for our Newsletter & be the first to get notified about new updates & features!
Tired of the WordPress Dashboard?
About the Author