It's Official!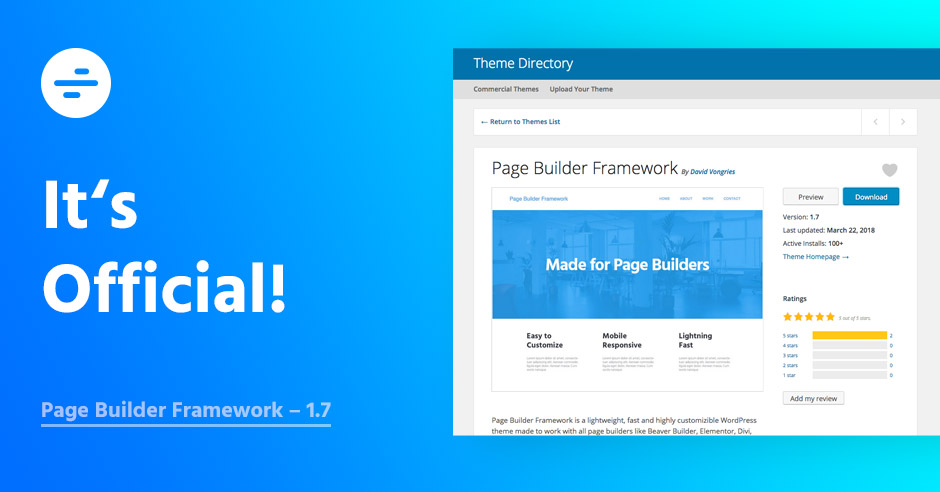 Page Builder Framework is now available from the official WordPress repository!
After being in the queue for 3 months, Page Builder Framework finally got approved and is now available from the official WordPress repository. Woohooo!
Migration
Due to the theme review guidelines, the theme's folder name changed from "wpbf" to "page-builder-framework" which won't let us update to the new version from our WordPress admin as we are used to.
But don't worry!
You can simply download Page Builder Framework from the WordPress repository, delete the old version of your theme, and let the migration tool do the rest.
Please watch the video below for a step by step guide and have a look at the migration guide from the docs.
Click the button below to load the video from YouTube.
Load Video
What's new in 1.7
If you've ever submitted a theme to the WordPress repository you probably know about all the guidelines and requirements you have to meet. Page Builder Framework is now more robust and secure than ever. But that's not all, lets look at some of the new features of Page Builder Framework:
Resizable logo container
Disable Header & Disable Footer template setting
Advanced button settings
Mobile sub-menu arrow color setting
Post navigation
Center aligned sub menu's
Customizable scroll to top button
More value & flexibility
I also wanted to add more value to Page Builder Framework with this release. Here are some of the new items that I've added:
Fonts
Fonts are important – in fact, they can make or break your website. That's why I've decided to move some of the font options of the Premium Add-On to Page Builder Framework. You can now chose your favorite Google font for your headlines, text and menu items individually.
Flexibilty
Lets imagine you've created a landing page with no header using the "No Header" page template. But what if you'd wanted to do the same thing for one of your blog posts or custom post types? The "No Header" page template is only available – as the name says it – for pages. So that just wasn't possible by default – until today!
The page templates "No Header/Footer", "No Header" and "Transparent Header" (Premium Add-On) have been deprecated and there are now options available that let you disable certain elements like the header and footer on a post by post basis for every post type (posts, pages, custom post types).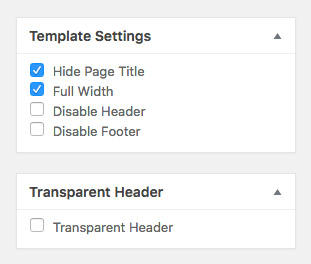 PS: You don't have to go through all your websites and change the settings if you've been using the deprecated templates before. They will still be around.
Premium Add-On 1.4 – Beta
Premium users can download version 1.4 of the Add-On from their account area and give it a test drive. Beta, because as soon this update goes live, you'll have to be using Page Builder Framework from the WordPress repository and I wanted to give everyone some time to make the switch. It is fine to use the beta on production sites.
With a framework, you expect great flexibility – that's what this updates focus is on. Here are some of the new features of the Premium Add-On for Page Builder Framework:
Different logo for transparent headers
Transparent header setting
Sub menu effects (fade, slide down, slide up, zoom in, zoom out)
Custom sticky navigation & sub menu animation duration

Footnotes
There's one more thing I'd like to highlight. Due to the WordPress repository guidelines, I had to merge the "Scripts & Styles" settings into the Premium Add-on.
This update is a huge step forward on making Page Builder Framework the only theme you'll ever need. If you have any questions regarding the migration process or need help with, don't hesitate to reach out and create a support ticket. I'm here to help!
Leave a Review

If you enjoy Page Builder Framework, help spread the word by leaving us an awesome 5 star review!
Stay in the Loop!
Sign up for our Newsletter & be the first to get notified about new updates & features!
Tired of the WordPress Dashboard?
About the Author