Introducing: the Page Builder Framework for WordPress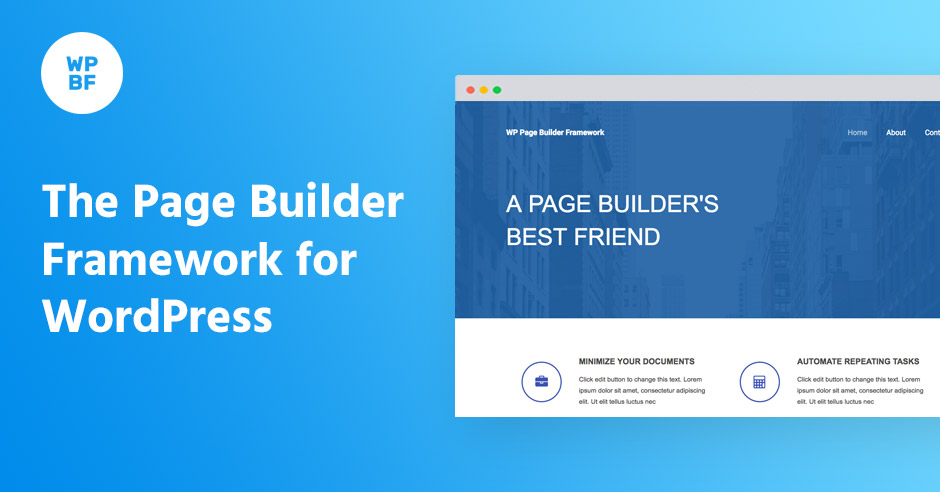 I'm proud to introduce to you today: The WP Page Builder Framework.
What is it and who is it for?
The WordPress Page Builder Framework is a WordPress theme, created to work with popular page builder plugins like Beaver Builder, Elementor, Divi & and more.
It has been built with page speed in mind, is optimized for SEO, and is not as bloated as a multipurpose theme. The main focus of the framework is on sections and aspects of the website you usually can't touch with a page builder plugin. That makes the Page Builder Framework the perfect fit for everone building a website with one of the page builder plugins out there.
Click the button below to load the video from YouTube.
Load Video
What differentiates the WordPress Page Builder Framework from other themes/frameworks?
You may be asking yourself: what's the difference between this and every other theme? The answer is simple. Many themes out there are multipurpose themes, loaded with tons of features you may not need using a front end page builder; while other frameworks require developer-skills and don't focus on the WordPress customizer enough. The WP Page Builder Framework fills that gap.
Pricing
We wanted to have a fair pricing structure for the framework. There are currently 2 plans avialable, a 1-year license and a lifetime license. For whichever license you decide, you can run the framework on as many WordPress installations you like. To receive continued support, the 1-year license will need to be renewed (at a 30% discount) at the end of each year.
Roadmap
As mentioned in the previous blog post, mobile menu variations and a child theme generator are the top priority. There is also a public Trello roadmap where you can get a more in-depth overview of what is coming down the road for the WordPress Page Builder Framework.
14 day introductory offer!
We're running a discount during the 14 days after release. Both licenses will be discounted (38€ and 98€ respectively) 14 days from today.
In closing
I want to take the chance and thank everyone for testing the framework during the public beta! As always, we are open to any feedback that you would like to share. Please refer to the private Facebook group or send us a message.
Stay in the Loop!
Sign up for our Newsletter & be the first to get notified about new updates & features!
Tired of the WordPress Dashboard?
About the Author