Toolset – A great-value new name on the Page Builder market
Well, as the name of our theme suggests we're very much in favour of page builders. The market for page builders now includes some well-established names and in this post we're going to introduce you to Toolset. Toolset has always had a strong capability for creating page layouts but now includes block-based design which integrates with Gutenberg.
What does Toolset bring to the page builder market?
The page builder market has been hotting up in recent years with the two key players adding new features to compete with one another. So does the market need another page builder? What does this new one bring to the table? Well I'll do my best to explain.
Firstly, Toolset now integrates nicely with Gutenberg and uses a block-based approach that's so similar you'll probably find it just as easy to use. When you add Toolset to your site and then use Gutenberg to create a post, you'll find that there are some extra options for additional blocks, over and above those already included with Gutenberg. These include some pretty useful ones like conditional fields, progress bars, review stars and views for creating archives.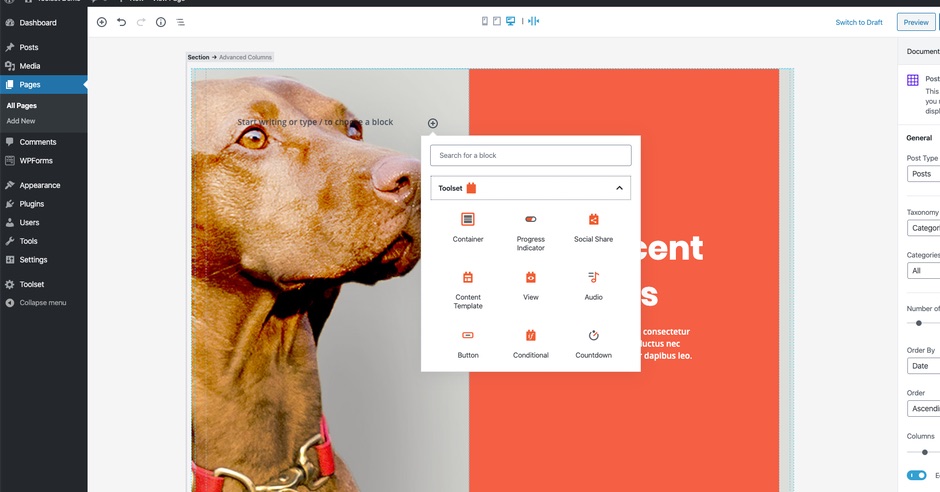 If you've been using Gutenberg for a while and are familiar with the look and feel of it, you might well find Toolset more intuitive to use than some of the other page builders. Like the other page builders on the market, Toolset does a lot of things you would expect it but has some impressive extra features that you might normally have to pay extra for – I'll get to those in more detail shortly.
How does Toolset compare with its competitors?
In terms of pricing Toolset is pretty competitive, starting at just $69, which is fine for a single site. However, if you're reading this review it's likely that you'll want the more advanced Interactive licence at $149 which will include the features you need for e-commerce, membership and directory sites.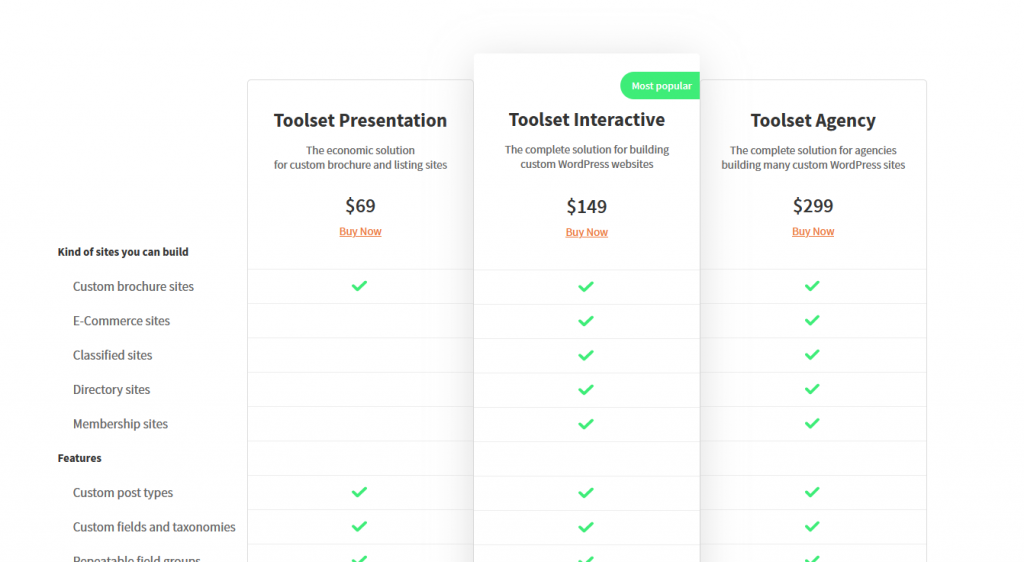 The Interactive licence will cover you for up to 3 sites and if you need more than that, the Agency licence at $299 allows you to use it on unlimited sites. As you would expect, all of these licences include a full year of support and discounts for renewals.
Toolset does all of the basics well, like allowing you to create block-based layouts without needing to use code. It also offers the ability to create dynamic custom templates and archives in conjunction with custom post types and fields. Not all of its competitors offer this without an upgrade at further cost.
Toolset also boasts some further features which might make it simpler to add some impressive features – still without needing manual coding. For the purpose of this review, I will focus more on these features which I feel really differentiate Toolset.
Toolset's standout features
So what are these standout features and why do they represent such great value? Well these too are features that can be achieved with other page builders but this often requires the purchase of another additional plugin. By using a separate plugin, you can't always be sure how well it will integrate with your theme or your page builder.
Effective faceted search
Let's say you're a law firm with 8 offices and hundreds of lawyers. Faceted search can offer drop-down filters to help site visitors find the right lawyer for their needs (for example they might want to know their specialism and location). This is something you commonly see on sites, but if you want to build sites without coding, you might use something like FacetWP to build search filters into your site.
Toolset allows you to pick different facets to filter by and also allows you full drag-and-drop flexibility of the layout of your drop-down lists and buttons etc to get the exact layout you want. All of this is within the Gutenberg editor and no worries about plug-in compatibility.
Great-looking maps for multi-location businesses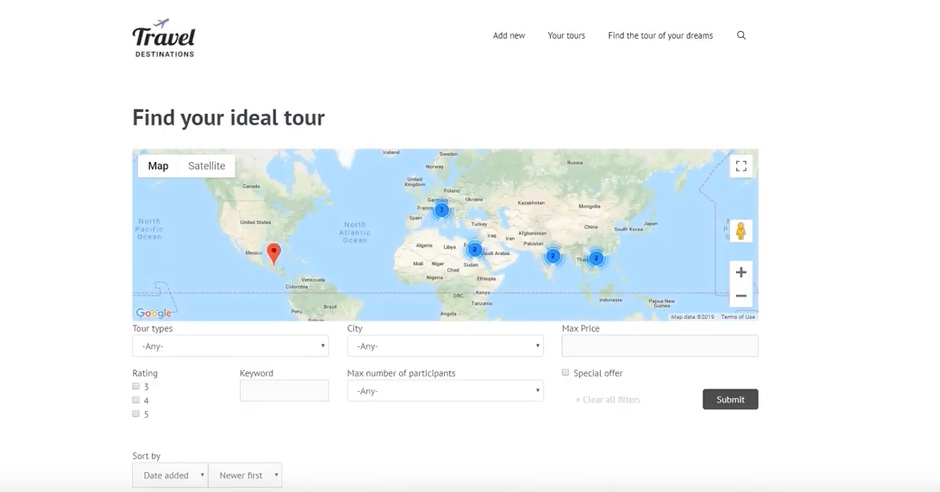 Now let's continue my example above of a law firm. Let's say I am moving house and need a property lawyer but the firm doesn't have an office near me as I live in a small village. How can I quickly and easily see the locations and figure out the best office for me to speak to?
Well the obvious way to do this is of course to see them all plotted on the same map. Toolset makes it very simple to add a listing of custom post types (such as your locations on a map). Again, this is something that can be achieved through other page builders but the usual way of doing this involves buying an additional plugin. That's another plugin to manage licences and updates for and it may not work seamlessly with your page builder or theme, so having this capability built right into Toolset can really help with the build and maintenance of your site.
Usability
Click the button below to load the video from YouTube.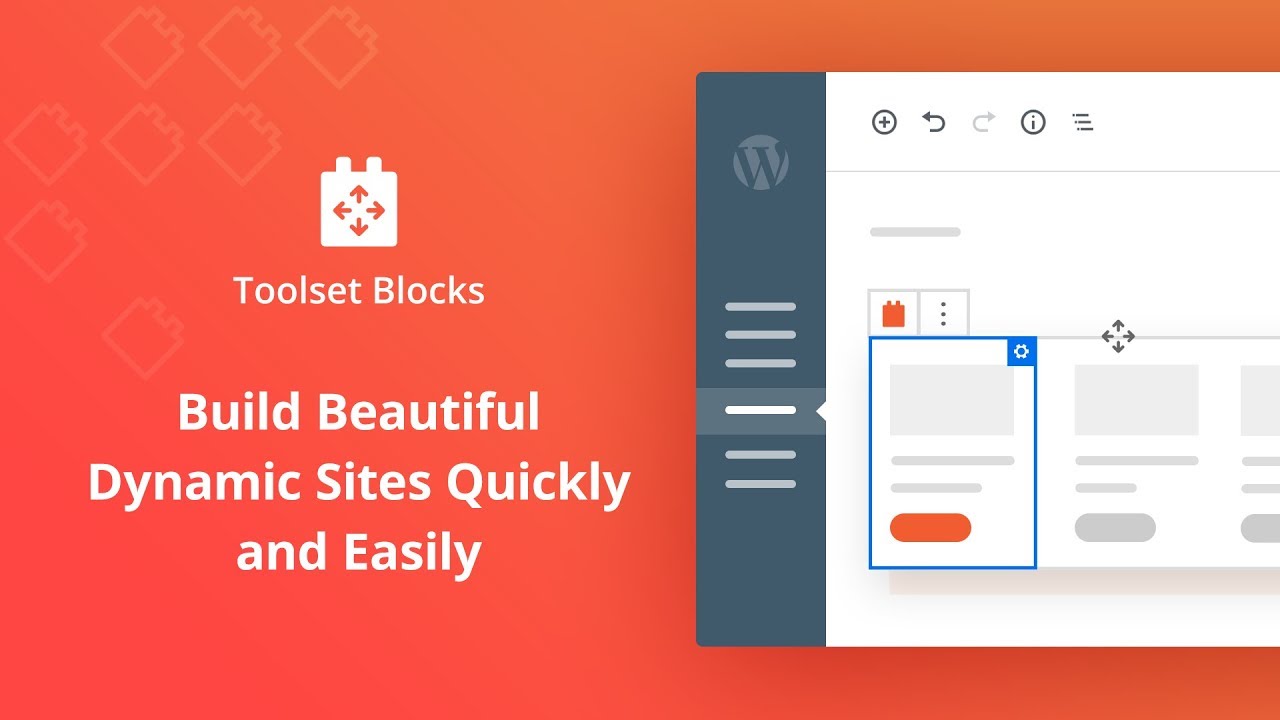 Load Video
As I've alluded to already, the page builder market is getting busier. There are many designers out there with a preferred page builder. As I've mentioned in previous reviews already, when you try out a different page builder, it's easy to write it off quickly and forget the fact that you only find your current page builder easier because you've invested a great deal of time in getting to know it.
Overall, I'd say that Toolset is pretty simple to use. Of course, it's not as easy for me to use as my current preferred page builder which I've been using for years. This review was based on a full trial on a demo site and – probably thanks to the fact that it is extending and utilizing the Gutenberg interface – I was able to figure it out relatively quickly.
Speaking as a virtually code-free, drag-and-drop designer, I find that it lives up to its promise of building great-looking sites without code. I also feel that with more use of Toolset I could turn them around quickly too.
Is there anything missing with Toolset?
I feel like Toolset does all the basics you would want it to and as I've mentioned above, it even includes some features you might be used to paying extra for. All of this comes in one integrated package at a pretty reasonable price. So you might reasonably ask what's missing, compared with its direct competitors.
In the interests of giving a balanced review, I'd say that one obvious thing that's currently missing is importable content. Not everybody likes having ready-made demo sites or pre-designed sections, which many of the competing page builders and theme packages include. Personally, I find them useful at times as a starting point, but I know many designers that don't like them and simply prefer to design from scratch.
With things like Global Color Palettes, Custom Block Patterns & Full Site Editing on the horizon, it's interesting to see how Toolset will integrate with those features.
Toolset scores highly for allowing you to create feature-rich, dynamic sites with tight control over layouts. If you're very design-led, their showcase page also proves that it's easily possible to create great-looking sites with Toolset, which looks like it works well with all the leading themes.
I hope you found this review useful and that it's given you a good overview of how Toolset stacks up alongside the other page builders in the market. As always, any comments or questions are welcome.
Stay in the Loop!
Sign up for our Newsletter & be the first to get notified about new updates & features!
Tired of the WordPress Dashboard?
About the Author