Reset, Export & Import WordPress Customizer settings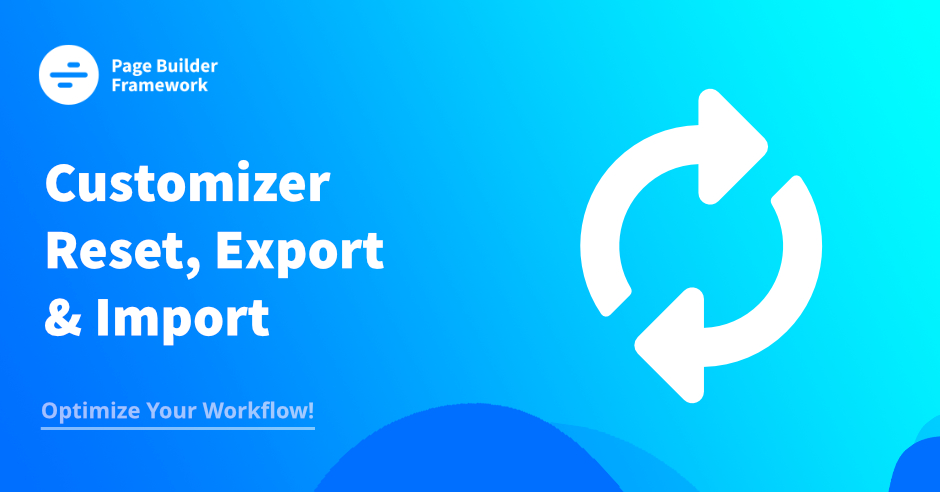 If you like your new WordPress projects to look just the way you want them as quickly and easily as possible, you'll love our simple new plugin. It's another small, but very simple step in the process of streamlining your workflow to get great-looking, effective websites completed on time and within budget.
Move Customizer settings quickly and easily between sites
If you use themes like our own Page Builder Framework along with page builders like Elementor or Beaver Builder, you probably enjoy all the workflow benefits that these tools bring. You probably have a go-to theme and page builder for every project and you might even have preferred options for typography, headers, post and archive layouts and more.
Modern-day themes now put a lot more functionality and options into the WordPress Customizer. Saving these settings and being able to move them between sites and projects quickly and easily is a real benefit. The new plugin, Customizer Reset – Export & Import lets you do exactly that.
How to move Customizer settings between sites
The short video below shows you everything you need to do. The plugin is available for free in the WordPress repository by simply searching for Customizer Reset. In the search results you'll see the plugin Customizer Reset – Export & Import. Simply install and activate it in the usual way.
Now at the very bottom of the Customizer panel, you will have extra options for resetting, exporting and importing your customizer settings. If you've ever imported blog posts from an old WordPress site to a new one, you'll find the process very much the same but even easier.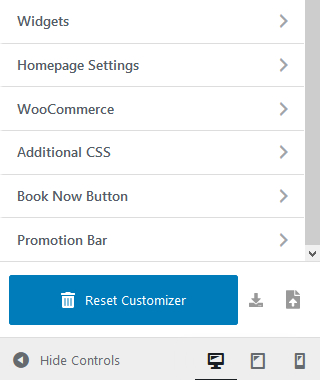 Exporting your settings will create a file within your downloads which you can either save to your computer or import it straight to another site. If you go wrong at any point and want to restore the customizer settings of any of your sites back to the default ones, simply hit the blue Reset Customizer button.
Before you import or reset your settings, you will get a quick warning dialogue box to avoid any unwanted mistakes. Once you click to go ahead, that really is it – your customizer settings are now just how you want them.
When to use the 'Customizer Reset – Export & Import' plugin
So when is this plugin likely to be useful to you? Well the obvious time is when you start a brand new site from scratch and you either have a default set of Customizer settings you like to work with or you decide that the settings from a previous project will suit your new site.
There are all sorts of other circumstances in which you might find it useful though and here are just a few quick examples:
Transferring settings between a parent theme and a child theme
Sharing settings from previous projects with clients and other designers
Moving settings between demo sites you have created for clients in specific sectors
Taking a snapshot of your current customizer settings
I hope you find this article – and of course the plugin itself – helpful. If you have any comments or suggestions, please leave a comment below and keep your eyes out for more plugins soon. We have a number of plugin ideas in the pipeline, all with a focus on making the WordPress UX and your workflow simpler over time.
Download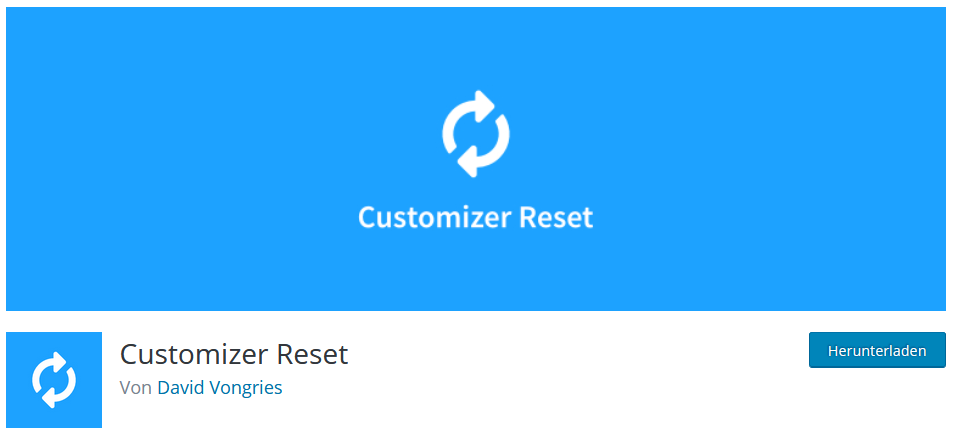 Free Download
Stay in the Loop!
Sign up for our Newsletter & be the first to get notified about new updates & features!
Tired of the WordPress Dashboard?
About the Author