Join our Affiliate Progam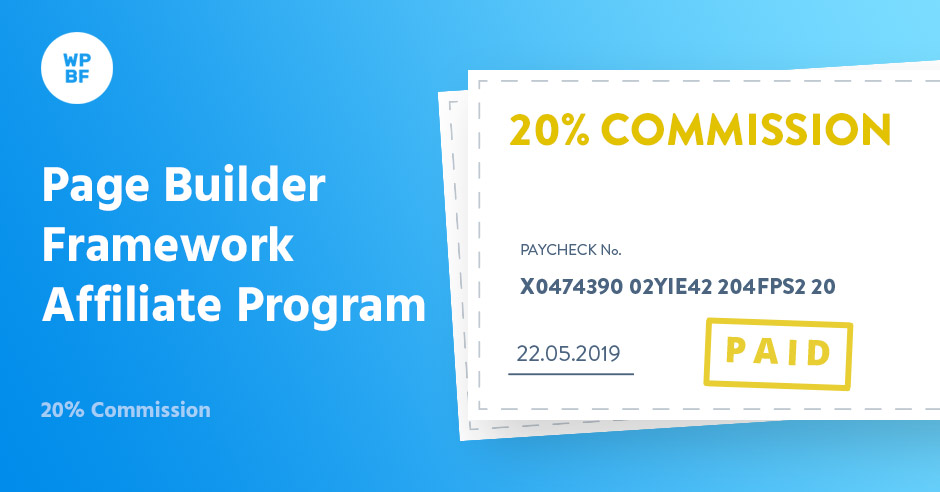 I am happy to announce that I have launched an affiliate program for the Page Builder Framework. If you love using our theme and want to help us introducing it to as much WordPress users as you can, then read on below for all the information.
What Are The Benefits Of The Affiliate Program?
The affiliate program is free to join and it allows you to earn 20% commission on all purchases made through your affiliate link. Your affiliate link has 60 day cookie policy so even if someone uses your affiliate link after they see your promotion for the first time, you'll be able to get your commission.
Payouts are made on a monthly basis.
Why Should I Sign Up?
Joining our affiliate program is an excellent opportunity to spread the word about our theme while earning a little extra money for your efforts. It allows you to introduce other WordPress users to a theme that was designed to work and integrate perfectly with some of the most popular page builder plugins like Elementor, Beaver Builder, Visual Composer, Divi, and others.
With Page Builder Framework, WordPress users don't have to worry about not being able to create perfect full width layouts or add mega menus because their theme doesn't allow it.
Naturally, promoting the theme will also allow you to earn extra income that you can use to help cover some of the costs associated with running your website, such as hosting.
Finally, our 60-day cookie policy means you don't have to worry about lost commissions because your readers didn't buy the theme immediately.
How to Promote Your Affiliate Link
Once you sign up for our affiliate program, you can promote your affiliate link in several ways.
Share The Link On Social Media
One of the easiest ways to promote your link is to share it on your social media accounts. You can use a tool like Buffer or Hootsuite to schedule a social media status to go out every couple of days or once a week and promote the link on any of your social media profiles.
Email Your List
Another great way to promote your affiliate link is to notify your existing email subscribers and tell them about the theme. Since they already trust you and you've built a relationship with them, they are more likely to check out our theme and sign up using your link.
Write a Blog Post About Page Builder Framework
You can also consider writing a blog post on your site and discuss the features of the Page Builder Framework. Tell them which specific features you used to design your site and how well it works with the page builder plugin you used. You can also take it a step further and create a video post that demonstrates Page Builder Framework in action.
Page Builder Framework Features
As a reminder, the Page Builder Framework includes the following features:
Designed to load fast
The ability to use the native WordPress Live Customizer
Works with any page builder plugin
Developers can take advantage of hooks to extend the theme
Integration with Gulp, Sass and BrowserSync for optimized workflow
Fully responsive
& much more!
Pricing
Page Builder Framework can be purchased for €48 which includes unlimited support and updates for a year and the ability to install the theme on an unlimited number of websites. The annual renewal price comes with a 30% discount.
Alternatively, users can purchase a lifetime license for the theme for €148.
If you want to earn a little extra income and help us spread the word about Page Builder Framework by introducing other WordPress users to a theme designed to work perfectly with any page builder plugin, join our affiliate program.
Stay in the Loop!
Sign up for our Newsletter & be the first to get notified about new updates & features!
Tired of the WordPress Dashboard?
About the Author