Free Version of the Page Builder Framework Released!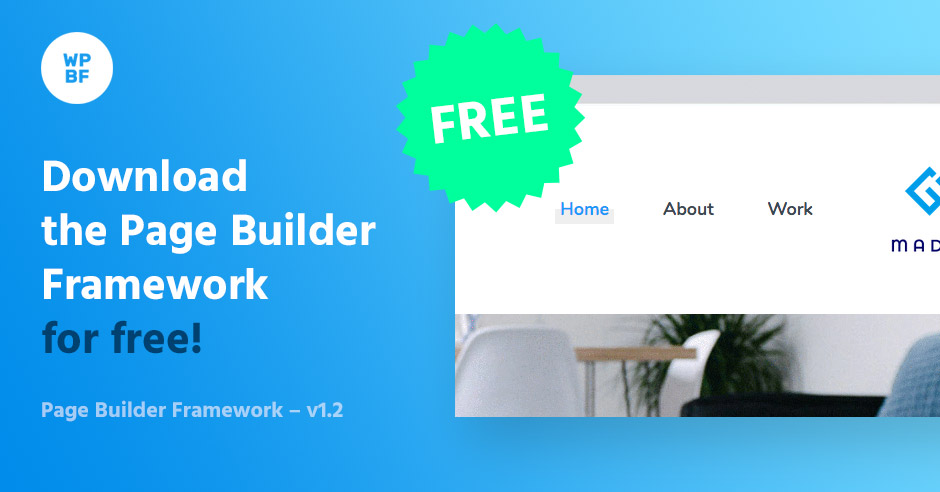 It's been three months since the official launch of the Page Builder Framework theme and I'm proud to announce that I've decided to release a free version. I decided to split the theme into a free version and a premium addon that you can purchase to unlock all the features.
But, what does that mean for all of you who already have the Page Builder Framework and what prompted me to release a free version? Read on to find out.
Why I Decided to Release a Free Version of Page Builder Framework
There are a couple of reasons that influenced my decision to release a free version of Page Builder Framework. It's worth mentioning that you can still take the Page Builder Framework + Premium Addon for a test drive under demo.wp-pagebuilderframework.com.
As most of you know, there is a lot of competition in the page builder plugins arena. Most of the popular page builder plugins such as Elementor and Beaver Builder offer a free version with basic features so you can explore everything they have to offer and decide whether or not a particular page builder plugin is the right choice for you.
Having a free theme to go along with the free version of a page builder plugin is a logical choice, one that would allow WordPress users to get the best of both worlds.
Secondly, a free version of the theme allows users to get familiar with the theme without any risk. It enables them to take the theme for a test drive and get used to the way the theme works along their preferred page builder plugin.
What Does That Mean For Existing Users?
If you're already own a Page Builder Framework license, you can download the premium addon from your account area as soon as version 1.2 of the Page Builder Framework has been released. Version 1.2 will be released within the next couple of days. You will need to run the new Premium addon after updating to version 1.2 to keep all the premium features.
1.2 is also a security update that brings security improvements so I encourage everyone to update your Page Builder Framework version immediately after it has been released.
What's New In The Premium Addon?
Typekit Integration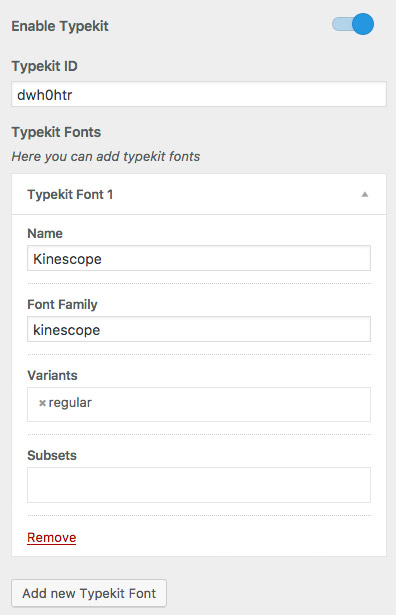 The premium addon now includes Typekit integration. I'm sure you know the importance of choosing the right fonts for your website. A high-quality font can not only increase the legibility of your content and draw attention to most important elements on your page, it can also help you stand out and maintain your brand consistency. If you're already a Typekit subscriber, all you have to do is enter your Typekit ID and choose your favorite fonts.
Mobile Off-Canvas Menu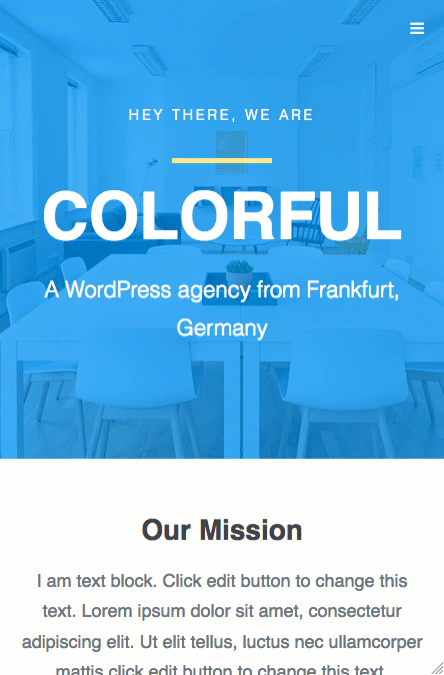 A lot of you requested the ability to have an off-canvas mobile menu and I'm happy to say this feature has been introduced in the premium addon.
What's In the Free Version of the Page Builder Framework?
The free version of the Page Builder Framework offers a lot of flexibility. With the free version, I wanted to give users the chance to explore as many features of the theme as possible so that everyone can test out the theme and create a beautiful and functional website without feeling limited.
For example, you don't need to purchase a premium addon simply to change all the colors or backgrounds on your site.
However, if the free features aren't enough and you'd like to make use of more advanced features such as transparent headers, sticky navigations, Mega Menu, Beaver Themer integration and other features that make the page builder framework unique, go check out the new premium addon to create a beautiful and fast website.
In Closing
I will update the website & documentation accordingly to the new changes within the next couple of days. You can grab the latest – and now free – version of the Page Builder Framework here:
Stay in the Loop!
Sign up for our Newsletter & be the first to get notified about new updates & features!
Tired of the WordPress Dashboard?
About the Author