Free Integrations & Post Layout Settings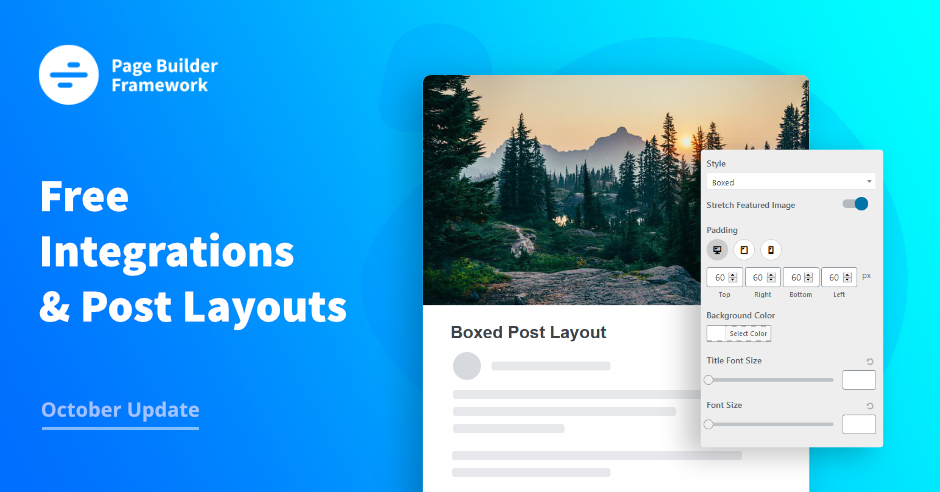 Beaver Themer integration, Elementor Pro integration & Post layout settings.
All for free!
Beaver Themer & Elementor Pro Integrations
These features aren't technically new to Page Builder Framework.
What's new about it is that both integrations are now included with the free theme and won't require the Premium Add-On any longer.
David McCan, a member of our Facebook group brought this to my attention. (Make sure to check out his YouTube channel, he creates some very interesting content like this Beaver Builder vs Elementor comparison).
When these theme building features were introduced by Beaver Builder and Elementor, I felt that they belonged in the Premium Add-On. Even though both are premium features by itself, I've changed my mind to help improve the free version of Page Builder Framework.
If you already invested in Beaver Themer or Elementor Pro, you should be able to use these theme building features with any theme, right? I bet your answer is yes! And that's why we've moved these integrations from the Premium Add-On to the free version.
Post Layout Options
Inspired by the Blog Layout options we recently added, there are now more Post Layout options available in Page Builder Framework.
These new Post Layout options include:
Boxed Layout

Responsive Padding Control
Option to stretch the Featured Image
Background Color Control

Title Font Size Control
& Font Size Control
We believe this is just the right number of styling options to create great-looking, nice & clean blog posts.

Maintenance Release
Both, Page Builder Framework 2.1 and the Premium Add-On 2.1.1 mark maintenance releases. We made sure it is all clean and tidy & added comments for developers that want to dig deeper into the code.
Wrapping Up
Our focus with this release was more on quality management instead of adding new features to both the Page Builder Framework & the Premium Add-On. The update still includes some nice additions that I'm sure you'll enjoy.
With the next couple of updates, we're going to continue to review existing customizer settings and extend functionality where needed, just as we did with this release.
As always, for the full list of changes, tweaks, and fixes, make sure to check out the changelog.
Stay in the Loop!
Sign up for our Newsletter & be the first to get notified about new updates & features!
Tired of the WordPress Dashboard?
About the Author