Customize your WooCommerce Store with these 4 Page Builder Plugins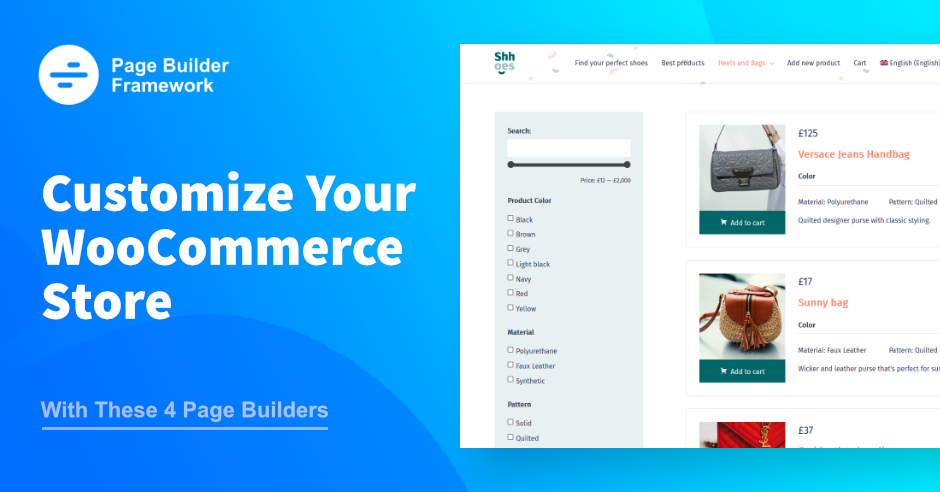 If you want your online store to stand out among your competitors, you'll need a plugin and theme that allow you to do more than WooCommerce's default templates. With Page Builder Framework and one of these four plugins, you can create a fully-custom store without any coding!
WooCommerce comes with some great default templates to help you build a fully-functioning online store quickly. But what if you want to create unique page layouts or add custom functionality?
Page Builder Framework includes native WooCommerce features to customize some aspects of your store, plus you can pair it with other plugins to take your customization even further.
Plugins for customizing WooCommerce
When it comes to customizing your WooCommerce store, there are three main ways to do it:
Stick with the functionality that the theme provides
Customize the look of your store pages with page builders
Build completely custom, advanced store features
Best of all, with the plugins mentioned below, you can create custom stores without any coding!
Customize the look of your store
Page builder plugins allow you to customize your store pages in the layout you want, with fonts and colors that match your branding. Page builders also make it quick and easy to get started, thanks to the variety of sleek and stylish pre-built templates they offer (just be aware that your store may look similar to other store owners using the same template).
Elementor Pro
If you don't know where to start with building your store, Elementor comes with a vast library of pre-built templates and UI kits. Though the layouts are mostly based on the default WooCommerce templates, they can provide you with styling inspiration and a quick jumping-off point to start customizing your store.
With Elementor's WooCommerce Builder, you can also:
Build basic product templates and display content from simple custom fields built with Toolset or Advanced Custom Fields.
Choose from 12 drag-and-drop WooCommerce widgets to build your pages.
Display basic product archives in a grid layout (you need a 3rd party plugin to create a custom output, including custom fields and taxonomies)
Create basic lists of latest products, sale items, features items, or manual items in a grid, card, masonry, or full content layout.
Order lists by date, title, price, popularity, rating, random, or menu order.
Elementor's limits are in creating custom content. If you want to create custom fields for your products, you need to use Toolset, ACF, or an Elementor add-on like the Crocoblock plugins.
Beaver Builder (+ Beaver Themer)
Beaver Builder (plus the add-on, Beaver Themer), gives you a lot of options when it comes to displaying your products in dynamic lists. You can choose to list specific products, featured products, sale products, best-selling products, top-rated products, products by category, products by term, products by attribute, and even products by custom taxonomy. Then, you can display them in grid, masonry, gallery, list, slider, and carousel layouts.
With Beaver Builder, you can also:
Build basic product templates – start with a pre-built template and choose from 12 WooCommerce modules to design your pages.
Display WordPress's standard fields, or custom fields from Toolset, ACF (including repeater fields using shortcodes), or Pods.
Trust that what you see on your site's backend is how it will look on the front-end – no matter what the theme settings are.
Create product archives in a variety of layouts.
Order product lists by popularity, rating, date, price, or product ID.
Beaver Builder's styling options are limited when it comes to some of the modules (like Breadcrumbs and Product Tabs) and dynamic list options (like styling the pagination and controlling the number of products per page).
Divi Builder
Divi Builder provides excellent styling control for individual WooCommerce elements and WooCommerce modules. The Divi Builder backend also displays exactly how your content will appear on the front-end, which means you can style your pages without any surprises.
With Divi Builder you can also:
Build product templates completely from scratch in your Theme Builder and display your WooCommerce elements in 15 modules. These include Add to Cart, Cart Notice, Gallery, Meta, Price, Rating, Related Products, Reviews, Stock, Tabs, and more.
Display custom fields you created using Advanced Custom Fields in your product template.
Display basic custom product archives in a grid layout.
Display latest products, featured products, sale products, best-selling products, top-rated products, and product categories in a grid layout.
Sort your products by price (low to high or high to low), date (oldest to newest or newest to oldest), rating, popularity, or menu order.
Divi Builder offers only limited options with customizing a product archive like your Shop page. You can only display your items in a grid layout, and it's not possible to display any custom fields or taxonomies.
Build completely custom, advanced store features
If you want to go beyond being able to just customize your product pages and shop pages, you can even build your own custom site features from scratch. This allows you to recreate advanced features you usually only see on major retail sites or build something completely new and specific to your site.
Toolset
Toolset not only gives you full control over your site's styling like the other page builders mentioned, it also allows you to build completely custom site structures without any coding. You can create custom post types, fields, and taxonomies, connect them using post relationships, and create templates and archives that display content dynamically. With these custom structures, you can build truly advanced and unique features.
Toolset is a suite of plugins that are unlike a traditional page builder. Instead, it's built on WordPress's Gutenberg editor, which means it uses a familiar interface and can easily maintain great compatibility with other plugins.
Plus, if you use Page Builder Framework, chances are you were drawn to it as a lightweight and fast theme. Toolset uses smart asset loading and lazy-loads images to eliminate any unnecessary code and keep your site fast. This makes it a natural partner to Page Builder Framework for keeping your site fast and optimized.
Toolset is the only plugin that lets you build completely custom store features from scratch. Here's some examples of what you can do:
Add custom search options to filter products based on your custom fields and taxonomy.
Show your store locations on a map using custom views.
Shop outfit inspiration using post relationships.
Create conditional templates and archives that display based on criteria you choose – for instance, a template offering cross-sells that displays when an item is out of stock, or an archive that displays relevant search filters for the product category.
Allow vendors to submit and manage their products directly to your site using front-end forms.
You don't need to figure all of this out on your own, either. Toolset walks you through how to build these features and more in their free Custom WooCommerce Sites Course.
Toolset comes with 12 blocks for displaying WooCommerce fields, plus its Dynamic Sources feature integrates with several popular 3rd party block plugins to display custom content across your site with an abundance of design options.
Because Toolset is intended to create fully custom designs, it doesn't come with any pre-built templates or demos. This means whatever you come up with will be 100% unique to your store.
Create a great WooCommerce Shop with Page Builder Framework and one of these page builders
So there you have it! You have many good options for designing your custom WooCommerce stores. Whether you go for plugins with pre-built templates or need fully custom, advanced options and features.
Page Builder Framework partners with all of these plugins to help you create a custom WooCommerce store.
Stay in the Loop!
Sign up for our Newsletter & be the first to get notified about new updates & features!
Tired of the WordPress Dashboard?
About the Author