10 Best WordPress YouTube Channels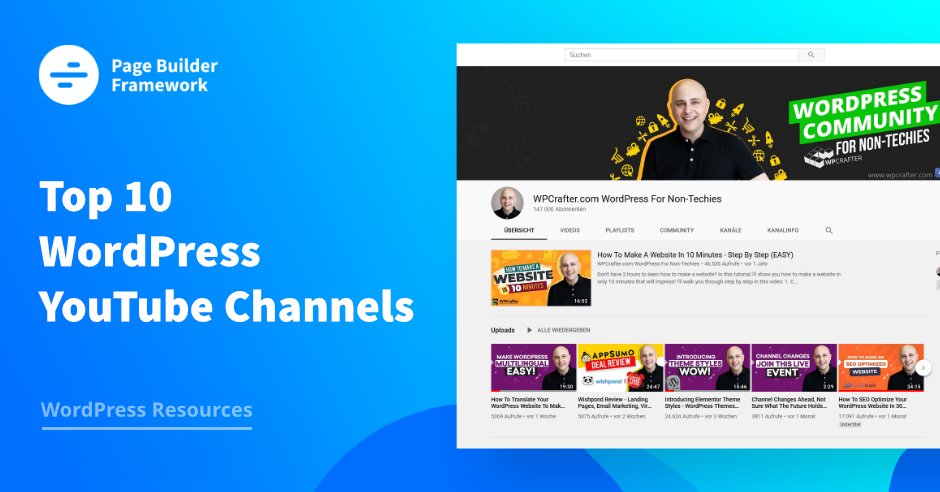 If you're a regular WordPress user, I'm sure that like me, you often find your way on to YouTube to learn a specific new skill or resolve a problem on a site you're working on. After all, what could be better than following a tutorial on one screen while you work on your site on another? It's got to be easier than printing off a 12-page blog post and trying to read it line-by-line.
YouTube has something to offer to all levels of WordPress users, and here are 10 channels that have helped me keep my skills up to date, so I can get better results for clients. I've chosen these as someone who's relatively non-techie and designs sites in a very drag-and-drop manner, using page builders and simple themes.
---
WP Crafter
Let's start with Adam Preiser – the name you're probably most likely to know already. Through his company WP Crafter, Adam offers paid courses and content, but remains extremely generous with the range and quality of his free content. His channel regularly covers the big-two page builders (Elementor and Beaver Builder) and many of the more popular plugins and themes. He loves to showcase new features while they're still in beta so you can hit the ground running by the time of the full release.
What's less well-known is that Adam also has a separate channel – named simply 'Adam Preiser' – which I only discovered by accident recently. Although this one is much less WordPress-specific, as a digital professional you're bound to find some of this content useful too.
---
David Waumsley
David's is another name you may already be familiar with. He's a big advocate of Beaver Builder and Beaver Themer and regularly reviews plugins that work well with these tools. Although he has a lot of short and simple videos of around the 10-15 minute mark, my favourite feature of his channel is something slightly different.
Have you ever suffered with creative block and wondered if you'll ever get a site finished to a standard you're happy with? I have and I found David's "Website Stripdown" series were exactly what I needed to get through it. These clips – which last for around an hour – involve talking to a WordPress designer about a real-life project they worked on and how they tackled it. If you work alone like me, this can be a great free way of bringing fresh ideas to your project.
---
WP Builds
More recently, David Waumsley has teamed up with Nathan Wrigley to create WP Builds. Under this new venture, they run an audio podcast alongside this YouTube channel. Although David and Nathan are excellent presenters, the guests they get on the show make it even better. There are a lot of "how-to" videos, but compared with other channels these are often obscure but useful scenarios (such as one on how to generate electronic gift cards) or they feature plugins that I'd not heard of elsewhere.
Compared with David's solo channel, some of these videos require a little more technical knowledge, but there are still some more simple, practical ideas in here, for WordPress users like myself.
---
Dave Foy – Design Build Web
Like myself, Dave Foy is an Englishman and what I like about his channel is his laid-back style and ability to explain things very simply and methodically. This is another channel that's very much aimed at those who know design but can't necessarily do a lot of manual coding.
A lot of the videos feature his favoured page-builder, Elementor which he clearly knows inside out. In fact, he even got asked by Elementor to contribute a video to their YouTube channel. I highly recommend this clip, in which he shows a great-looking blog post from hosting company Flywheel and then walks you through a step-by-step recreation of it, using Elementor Pro.
---
WP Tuts
At the risk of repeating myself, here is yet another likeable, laid-back member of the WordPress community with a great presenting style. Paul from WP Tuts keeps things very simple. He clearly favours Elementor as a page builder and has a good knowledge of the best plugins to use with it. Don't be put off if you don't like Elementor though – his other videos cover subjects as diverse as page speed, running back ups and GDPR.
This is also a great channel for you if you prefer short, bite-sized videos in a series, rather than epic videos like those mentioned above from Ferdy. Paul's WooCommerce playlist definitely falls into that bite-sized category, making it easier for you to dip in and out of some subjects when you need to.
---
Ferdy Korpershaek
Considering that I only discovered Ferdy's channel recently, I was amazed to see the amount of videos he has on there. He has a clear preference for Elementor and Astra for site builds and has a very thorough knowledge of both. However, he also has a decent amount of content for Divi and reviews a wide range of plugins and tools as well.
His videos range from 3-4 minute quick tips, right through to the occasional 2 or 3-hour epic, so there really is something for people at all levels on this channel. If you need to learn something very detailed – such as how to create your first WooCommerce site – this is a great channel to help you do it.
---
Elegant Themes
You may know Elegant Themes as the makers of Divi. This very well-known theme had its own page builder, which has since become a stand-alone builder for use with any theme. Their channel is pretty typical of their overall marketing – a good amount of it is focused on Divi and helping users make the most of it, through "how-to" guides and free layouts and assets.
However, there are enough good, general WordPress tips videos – most of which are very short and to the point – to make this channel well worth a look. Even though I've never used Divi on a project, I've always found their content very useful generally. Their podcast – which I also enjoyed in the past – seems to have come to an end, but this channel and their blog still have a lot to offer.
---
Darrel Wilson
Darrel's channel is another that covers a very broad range of subjects. He has a very down-to-earth style which is perhaps less polished than some of the other channels but no less effective. I avoided Gutenberg for some time as I was apprehensive about it, but his intro video was one of the best explanations I've seen about the differences between Gutenberg and the Classic Editor.
What sets him apart slightly from some of the others is that he tackles subjects that can help you on specific projects (such as reviewing the best booking plugins or explaining how to build a membership site) or with the day-to-day challenges of running an agency (such as how to market your business or creating electronic client contracts).
---
Pods Framework
Personally, I've worked with WordPress since 2009 but until relatively recently I had only built simple, static websites. I'd been aware of custom post types for years but never really done anything with them. We're now spoilt for choice as to how we create custom posts, with ACF, Toolset and Pods being the most popular choices.
Pods has since become my preferred way to create dynamic content with custom post types and their YouTube channel has been a big help to me. Check out their videos and you'll get a better feel for what's possible and then you'll be able to figure out what you might do for clients. The new breed of page builders connect effortlessly with custom post content, so there's never been a better time to create dynamic content for your clients.
---
WP Learning Lab
So I mentioned at the outset that I'm a drag-and-drop kind of designer and most of the channels are a great match for where I am right now. It's always good to have one eye on the future though and there have been times where I encounter a problem on a site that's probably really easy to fix with just a little bit of knowledge of coding.
This is a channel I've started to learn from very recently and the host Bjorn has created a great range of videos that are typically 2-5 minutes long, covering some of the basics of HTML and CSS. From what I've learned already, I can see that this is going to be a valuable resource to help me manually code my way around minor problems on projects.
---
Happy Viewing!
So there are 10 of my favourite WordPress-related YouTube channels. We all have different learning needs when it comes to WordPress, so even if the above channels aren't right for you, I'm sure YouTube has a lot that you can learn from. I'd love to see your comments as I'm sure there are plenty of other great channels out there.
Stay in the Loop!
Sign up for our Newsletter & be the first to get notified about new updates & features!
Tired of the WordPress Dashboard?
About the Author