Page Builder Framework 2.0 Beta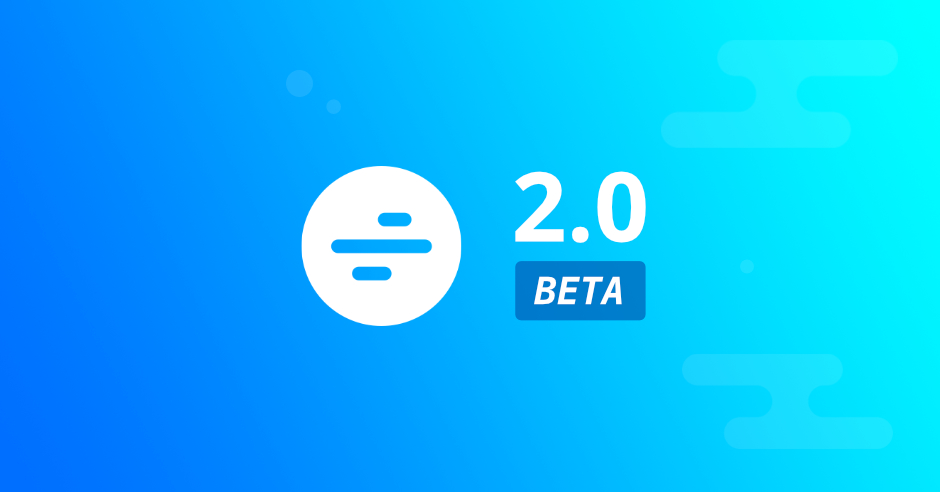 We're super excited to let you know that Page Builder Framework 2.0 is now in public Beta!
Page Builder Framework 2.0 comes with major improvements, new features & lots of enhancements. With a little more than 3 months of development time, we're close to release our biggest update yet. So, let's dive right into it!
Here are some of the new features that will be released with Page Builder Framework 2.0:
Blog Layout Settings
Easy Digital Downloads (EDD) integration
Major accessibility improvements
Option to hide Featured Image on a post by post basis
& a lot more!
As always, you can find the full list of enhancements, fixes & updates on our changelog.
Let's have a closer look at the new features.

Click the button below to load the video from YouTube.
Load Video
Blog Layouts
Blog Layouts were the main focus of Page Builder Framework 2.0.
You may be wondering why this took so long. Well, providing styling options for the blog archives isn't a big deal in general – we simply wanted to create something more advanced, escpecially for our Premium Add-On users (more on that later).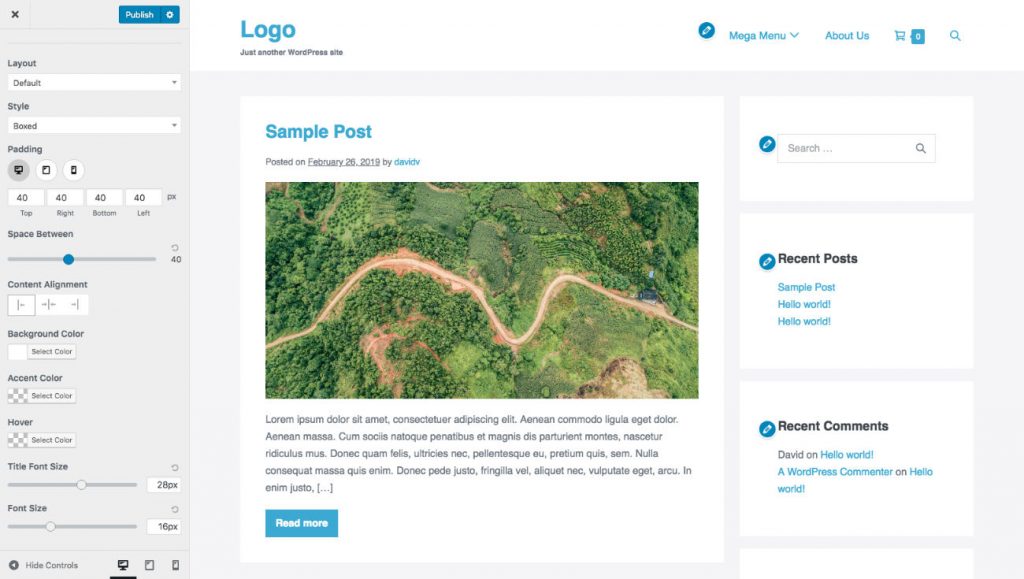 With 2.0, we've added basic styling options to the existing blog layouts in Page Builder Framework for you to create stunning and pixel perfect Blog / Archive Pages.
Accessibility
Another topic we wanted to include in 2.0 was accessibility. Admittingly, Page Builder Framework didn't do enough of this in the past, but that is going to change.
We've significantly improved the overall accessibility of the theme by adding:
Aria Markup
Screen Reader Texts
Visual representation (focus) on keyboard/tab navigation
There are still a few things we need to improve upon, for instance making sub-menus on desktops keyboard accessible.
We've scheduled to have the theme fully accessible with the release of Page Builder Framework 2.0.
Enhancements
Let's have a look at some of the other enhancements coming your way with Page Builder Framework 2.0.
Template Settings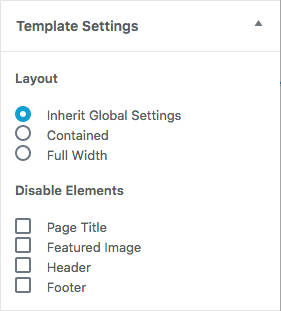 PBF 2.0 comes with a slightly redesigned Template Settings metabox. Pages, Posts & Custom Post Types can now be set to Contained if they've been set to full-width in the Global Template Settings (Premium feature).
Under Disable Elements, you can now hide the Featured Images on a post by post basis.
Footer & Pre-Header Settings

We've refactored & simplified the Footer & Pre Header Panel in the WordPress Customizer.
Most of the Premium Add-On Footer settings were moved to the theme. Gone are the days when you had to deal with custom code to replace the footer text! 🙂 We've also made it easier to change the branding by introducing the theme_author filter.
Premium Add-On Tip: The white label settings under Appearance -> Theme Settings will be taken into account if the theme author is not declared specifically in the WordPress Customizer.
Logo Settings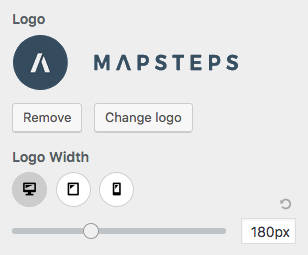 The Logo Settings Panel has been decluttered and we've turned all logo size settings into responsive controls.
Improved Size Controls
You may have noticed on the screenshot above that we have a new size control field. This hybrid control – which is a mix of slider & input field – is going to replace the regular size input fields with the release of 2.0.

We know you love the old size control field for it's ability to accept any given suffix. This new field works exactly the same! 🙂
---
Premium Add-On 1.12 Beta
With the upcoming release of Page Builder Framework 2.0, the Premium add-on will have a Beta as well. Users with an active license can download the current Beta from their account area.
Let's have a look at some of the features coming to the Premium Add-On:
Advanced Blog Layout settings
Major accessibility improvements
Performance improvements
Option to add Pre-Header to Sticky Navigaiton
Customizable Call to Action Button
Footer Theme Author settings
& more
For a full list of changes, please head over to our changelog page.
Blog Layouts reimagined
As mentioned earlier, we've not only tried to add some basic styling options for the Blog / Archive pages, we've tried to do something a lot more advanced.
While the default Blog / Archive Layout settings in Page Builder Framework affect all archives on your website, the Premium Add-On will allow you to enable styling options for specific archive types such as:
Search Results
Blog Page
Custom Post Type Archives
& more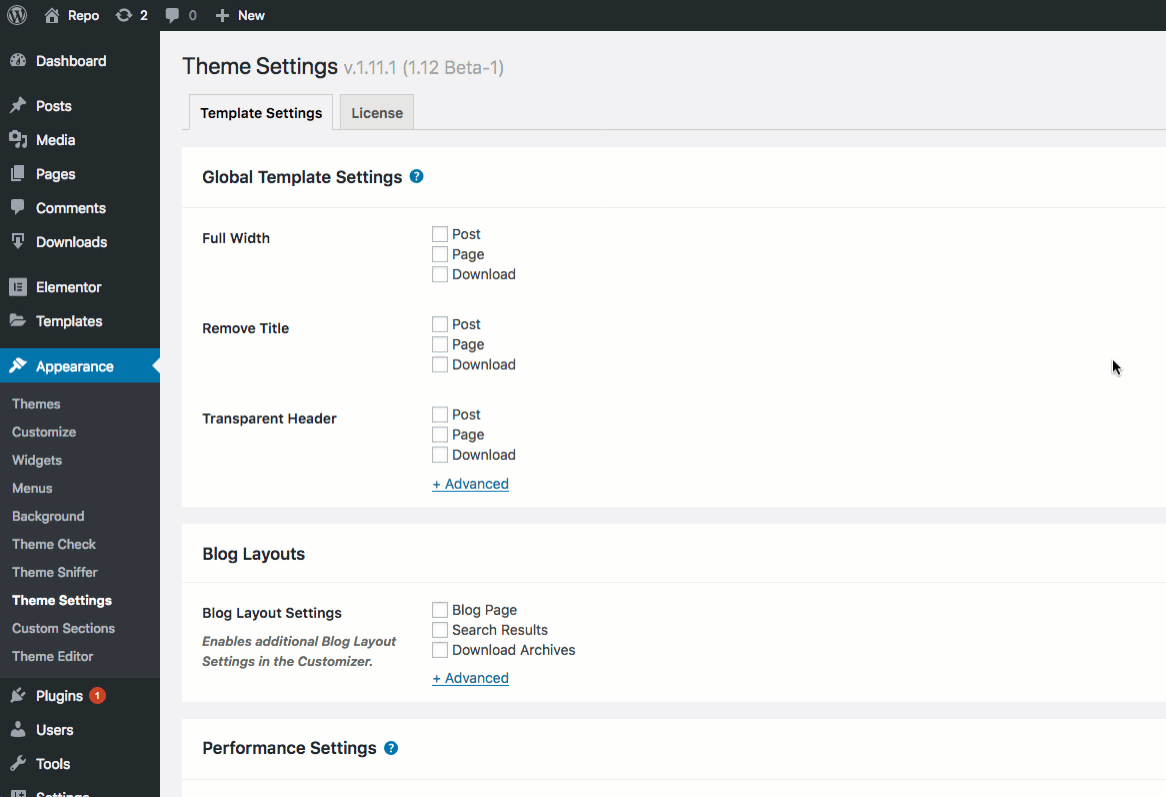 You want your Search Results to look different from your Blog Page? No problem!
Want your Easy Digital Downloads Product Archive to look differently from your Post Archives? We've got you covered!
With the upcoming release of the Premium Add-On, you can turn on styling options for each archive type individually. This is super powerful and gives you maximum flexibility at customizing your website.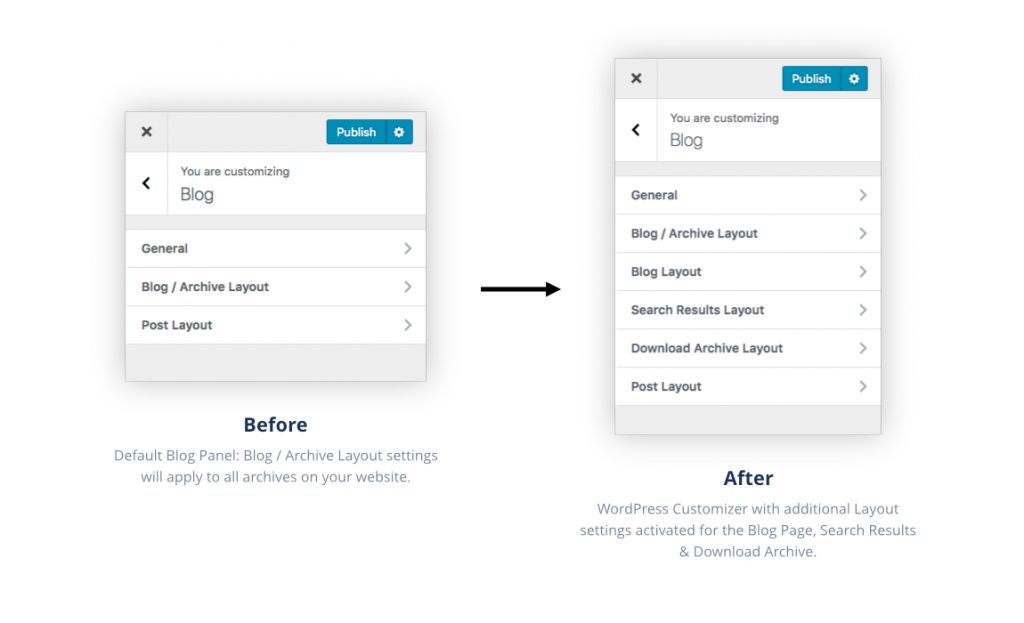 ---
Deprecated
Some deprecated methods & files are going to be removed with the release of 2.0 so make sure your website is ready before updating.
No Header & No Header/Footer Page Templates – these have been marked as deprecated for quite a while and will be removed with 2.0. You can disable the Header/Footer on a page by page basis under Disable Elements in the Template Settings metabox.
[credit]-Shortcode (Premium) – has been replaced with the theme_author filter. This is fully backwards compatible, so there's nothing to worry about. Make sure to check out the new settings under Footer in the WordPress Customizer.
Hooks (Premium) – wpbf_before_off_canvas_menu, wpbf_after_off_canvas_menu, wpbf_before_full_screen_menu, wpbf_after_full_screen_menu have been removed.
Transparent Header Page Template (Premium) – similar to the No Header & No Header/Footer templates, the Transparent Header Page Template from the Premium Add-On has been removed. Please use the checkbox in the Transparent Header metabox instead.
We want your Feedback!
We're trying to get as many folks as possible to test Page Builder Framework 2.0 & the Premium Add-On before releasing it to the "wild". So please help testing the beta's and report bugs & issues on GitHub.
Do you feel something is missing? Any other feedback?
Please let us know in the comments below. 🙂

Download
Download Page Builder Framework 2.0 Beta
Download Premium Add-On 1.12 Beta
This is a beta release. It's not recommended using beta releases on production sites.
---
Stay in the Loop!
Sign up for our Newsletter & be the first to get notified about new updates & features!
Tired of the WordPress Dashboard?
About the Author